I am on a mission.
I have a job for you. You can do anything, right? Because I'm going to put your skills to the test.
I need you to make me shoe-grandchildren. And not just ANY shoe-grandchildren. Shoe-grandchildren made from my shoes and Jon's shoes. I provide a picture to help guide you in your quest.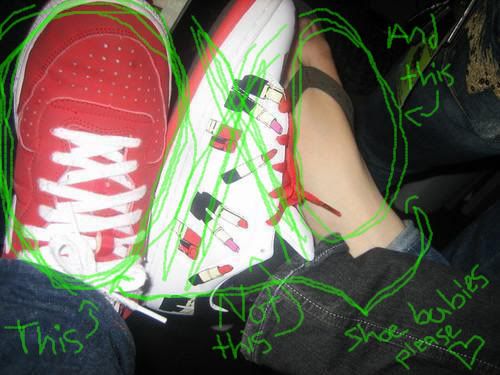 Okay, so Jon's shoe is nearly invisible, but it's a flip flop. They all look the same. If need be, I can GET YOU THE SHOE.
So, I need to know. CAN YOU DO IT, PETE? No no, I KNOW you can...
But will you?
My happiness rests on your shoulders and your shoulders alone.
Also, my post is cooler than Ryan's because it's got an awesome picture.
Mr. Pete-Wentz and Creaaaaaam. D: